Pete Sanderson: My Personal Interests
---
Nancy Lahmers

My best friend for ages, and wife since 1977.
---
Bicycling
Nancy and I bicycle for pleasure and exercise. We generally ride our 1992 vintage Klein road bikes on 20-40 mile trips in Central Ohio or after work on the Olentangy Bike Trail. While we lived in Springfield, we rode the MS-150 for many years.
Since moving to Columbus in 2001, we have begun riding in the annual weeklong Great Ohio Bicycling Adventure (GOBA), www.goba.com. Here are links to photos and commentary from our GOBA 2004, GOBA 2005, GOBA 2006 GOBA 2007 GOBA 2010, and GOBA 2013 rides.
In 2015, we passed on GOBA and instead did NOBA! As in Nancy's Ohio Bicycling Adventure! This was a cutomized route based on the Ohio-to-Erie Trail. We started at Schmidt's boat launch ramp east of Cincinnati and finished seven days later on the beach at Edgewater Park on Cleveland's west side. Here's a short video highlighting our trip.
We also take organized bicycling vacations and have traveled with Great Bike Tours, Sojourn, VBT, Backroads, and CBT Tours. Here are links to photos from two Sojourn tours: Tucson, AZ and Ontario's Niagara wine country.
See additional bicycling links below.
Since 1991, we have also explored Vermont, Utah and Arizona canyon country, the Canadian Rockies, Louisiana, the North Carolina coast, the Florida Keys, the Maine coast, the Columbia River gorge in Oregon, the San Juan Islands of Washington, Nova Scotia, Quebec, Denmark, southwest Ireland, and the south island of New Zealand, all by bicycle. It is a great way to see a country!
---
Music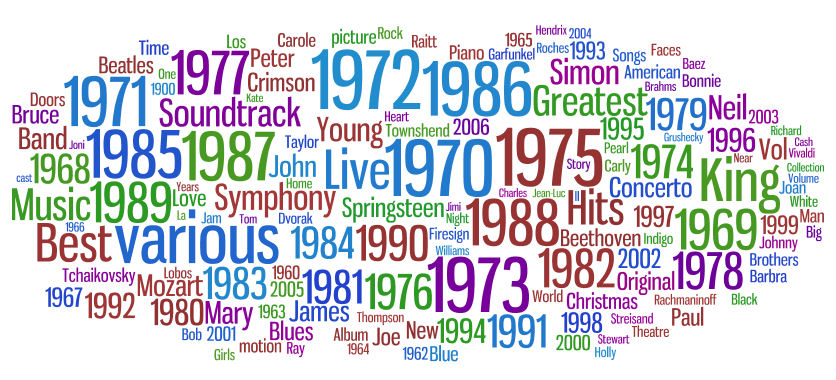 I'm not much of a performer (strum the guitar on occasion) but enjoy listening to and buying good music of a variety of styles. These include rock, pop, blues, folk, bluegrass, classical and opera mostly. A text listing of my collection of LPs and CDs (updated September 2007) is available online. I love LPs, and play them on a Linn LP12 Sondek. Good used ones are cheap-to-free, and new ones can be purchased from a variety of sources. My favorite is Music Direct in Chicago.
In the summer of 2010, I completed the project of digitizing my collection of LPs. It took about three years, roughly one album per day at 33-1/3 RPM.
In July 2008, my favorite local (Upper Sandusky) band from high school days, Zeke, held a reunion concert in Upper. It was their first concert since the early 70s! All surviving band members played, and the two deceased members were represented by their sons who coincidently play the same instruments. I have posted an essay and photos on Facebook.
I've attended many many concerts over the years, ranging from the Pittsburgh Symphony to the White Stripes, from the Roches to King Crimson, from Lyle Lovett to Chuck Berry, from Tony Bennett to Stevie Ray Vaughan, from Fairport Convention to Bruce Springsteen, from the Indigo Girls to Neil Young and Crazy Horse, from Carlos Montoya to Los Lobos. And loved 'em all. I occasionally write essays about concerts I've attended and email them to family and friends. Most are posted to my Facebook Notes page.
---
Home Brewing
I brew a variety of beer styles using both an "all-grain" process and also the simpler "extract" process. Here are some photos of the all-grain brewing process.
The Petefest tradition has continued following a year off after my 2001 move to Columbus. This is a homebrew tasting party held early each fall. A recent Petefest featured hefeweisen, pilsner, cider, espresso and imperial stout, dark lager, belgian ale and tripel.
Most of my recipes come from a "Clonebrew" book I received as a gift several years ago from Jeff Garcia. They are much more specific than Papazian's, and include 3 brewing variations for each one: extract, all-grain, and mini-mash.
There are lots of brewery/restaurants in Columbus! The number has more than doubled between 2012 and 2015. Three are within blocks of each other near Nationwide Arena, home of the NHL's Blue Jackets.
For some of the best British and Irish style ales you will find this side of the pond, join me at Barley's Brewing, 467 North High Street across from the convention center. Along with their taps and guest taps, they feature one or two cask-conditioned ales and each Friday afternoon a 20-gallon firkin (like a keg only without the propellant). When I was still living in Springfield in the 90s and flew into Columbus to visit my mother, I used to stop at Barley's for a pint on my way to/from the airport. Barley's food is mainly pub grub.
Smokehouse Brewing is at 1130 Dublin Road a couple miles west of downtown. From Barley's, go south on High, turn west on Spring and just keep going. Pub grub, but features great smoked BBQ. This is the former Barley's Ale House #2.
Gordon Biersch adjacent to Nationwide Arena is a franchise located in selective (mostly West coast) cities. They are the only local microbrewer to brew lagers. A short walk from Barley's. Fine German-style lagers and great California-style cuisine.
The Elevator is a few blocks south of Barley's at 161 N. High Street in a beautiful historic old bar. Beers are so-so but the food and atmosphere are great. Easy walk to Nationwide Arena events and the parking is much cheaper.
Columbus Brewing is located at 525 Short Street in the Brewery District just west of German Village on the south end of downtown. Go south on High Street through downtown, turn west onto Mound Street then south (left) onto Short. The menu is California and the atmosphere is trendy yet casual. Their beers are available on tap at a number of restaurants around town.
As I said, a number of others have opened since 2012 and it's hard to keep up. A couple include restaurants, others have a food truck in the parking lot, still others have only an on-site tap room. These include, in no particular order: Sideswipe Brewing, Zaftig Brewing, Wolf Ridge Brewing. Actual Brewing, Land Grant Brewing, Zauber Brewing, Seventh Son Brewing, Pigskin Brewing, Four String Brewing, North High Brewing, Lineage Brewing (in my neighborhood!), Temperance Row (in Westerville, former HQ of the Anti-Saloon League!), Hofbrauhaus, Knotty Pine. Several others have opened in central Ohio outside Franklin County: Homestead in Heath near Newark, Rockmill outside of Lancaster, Staas and Restorationin Delaware, Buckeye Lake in Buckeye Lake, Hoof Hearted in Marengo (rumored to be moving to Columbus).
Good source of brewing ingredients: Since moving from to Columbus, I've switched to The Winemakers Shop on High Street just north of North Broadway. It is just a few blocks from our house (coincidence? I don't think so!)
Good source of information: The New Complete Joy of Home Brewing, by Charlie Papazian.
Some interesting links:
Williams brewing supplies
The Grape and Granary brewing supply in Akron
Barley's Brewing in Columbus
Gordon Biersch Brewery/Restaurants
Beershots: microscopic views of beers
The Real Beer Page
homebrew clubs
American Homebrewers Association
Beer Trips
Merchant du Vin
---
Woodworking
Most recent major project: Nothing major since moving to Columbus in 2001. The house is in pretty good shape with lots of storage. Just a few shelves and such.
---
Photos from Travels
Here are photos from various trips that Nancy and I have taken in recent years. They are of interest mainly to family and friends but links are cheap so if you are bored they are yours to explore!

Great Ohio Bicycling Adventure (GOBA)

Bicycling vacations

"Normal" vacations

Visiting relatives and friends



---
[ Pete Sanderson Otterbein home page ]
---
Last reviewed: 3 May 2017
Pete Sanderson (psanderson@ameritech.net)